---
Who We Are
The Motor Dealer's Association of Alberta (MDA) strives to serve the collective interest of all its members and promote positive relationships with government, industry, suppliers, consumers and media, by offering needed and effective programs and services. Our members include over 90% of Alberta's franchised new vehicle and heavy truck dealerships.
The MDA is a not-for-profit, industry trade association with only two paid staff: Denis Ducharme, President and Denise Desmarais, Executive Assistant. The MDA is governed by a Board of Directors comprised of representatives from across the Province of Alberta, and an executive committee.
---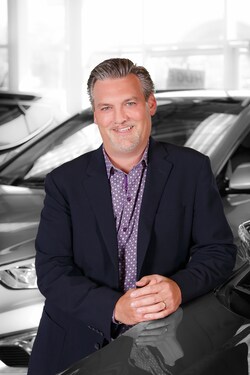 Andrew Robinson - Chairman
A native Calgarian, Andrew attended the Georgian Automotive Business School where he studied marketing, accounting, legal and manufacturing courses, among others, all valuable for the path he saw for himself.
After graduating, Andrew gained practical experience by selling new and pre-owned cars and learning from more seasoned salespeople in the industry.
When he had garnered several years of experience and extensive knowledge of the Hyundai brand and the dealership, Andrew earned the role of General Manager of Precision Hyundai in 2003.
---
Denis Ducharme
President
Denise Desmarais
Executive Assistant to Denis Ducharme
2018 - 2019 MDA Board Executive
Chairman: Andrew Robinson, Precision Hyundai - Calgary
Vice Chair: Todd Ducharme, Westlock Motors - Westlock
2nd Vice Chair: Chad Zender, Zender Ford - Spruce Grove
Past Chair: Bob Harms, Londonderry Dodge - Edmonton
Sr. Past Chair: Darin Schotanus, Universal Ford Lincoln - Calgary
2018 - 2019 MDA Board of Directors
Colby Longmate, Windsor Motors - Grande Prairie
Brian Baron, Vegreville Ford - Vegreville
Don Milliken, KIA Cold Lake - Cold Lake
Alan Hunter, Hunter Motors - Athabasca
Mark Hicks, Sherwood Ford - Sherwood Park
Gerry Lorente, Bavaria BMW - Edmonton
Ty Newbigging - Sherwood Nissan - Sherwood Park
Greg Gordon, Rainbow Ford - Rocky Mountain House
Dean Moe, Gary Moe Hyundai - Red Deer
Glenn Smaha, Davis Chevrolet GMC Buick - Airdrie
Blake Clark, Cam Clark Ford - Olds
Jordon Romeril, Country Hills Hyundai - Calgary
Paul Valentine, Valentine Volvo - Calgary
Cheyno Finnie, Integrity Hyundai - Lethbridge
Tim Davis, Davis GMC Buick - Medicine Hat
Greg Stahl, New West Truck Centres - Calgary
Jim Gillespie, Calgary Motor Dealers Association
Eleasha Naso, Edmonton Motor Dealers Association